(needs updating)
News last updated 03/24/2010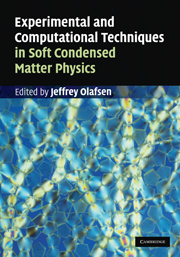 The latest news is that Dr. Olafsen's edited volume should be published by the end of the summer by Cambridge University Press.
---
There's been a lot of news since Dr. Olafsen's Nonlinear Dynamics Lab moved to Baylor University.
At some point, we'll try and reconstruct a news archive for the last few years.
The most significant piece of news is that the lab changed names when it arrived at Baylor University.
The Dynamics and Imaging Analysis Lab (DIAL) is the new name for what was previously the Imaging Systems Laboratory Experiments (ISLE) group.
12/27/05
The new MRI machine has arrived and we've started producing images in 3D granular packings and 3D foams
06/20/05
Anisotropic dynamics in a shaken dimer gas experiment
by J. Atwell and J. S. Olafsen
has appeared in Physical Review E.
06/15/05
Kansas NSF EPSCoR has funded our equipment proposal
Portable Magnetic Resonance Imaging Resource for Basic Research
in Biomechanical and Living Systems
to fund purchase of a portable MRI resource.
12/03/04
Polymer-like folding of a two-dimensional granular chain in water
by B. Bammes and J. S. Olafsen
has appeared in Chaos.
11/26/04
Eric Sorrentino, a junior majoring in journalism, focused his multimedia project on the work of Jesse Atwell, G. W. Baxter and J. S. Olafsen. The end result can be seen here.
08/29/04
Ben Bammes' video to the APS March Meeting received 3rd place in the 1st Annual Gallery of Images sponsored by the GSNP group of the APS. As part of the award, Ben will be submitting a paper and video to the journal Chaos.
07/14/04
Sarah Feldt and Kevin Kohlstedt have graduated. Sarah will be attending graduate school at the University of Michigan on a Regents Fellowship. Kevin will be attending graduate school at Northwestern University on a McCormick Fellowship.
03/29/04
Sarah Feldt has received one of the Class of 1913 Chancellor's Awards. The news release is here
03/17/04
The new lab in 6073 Malott has been finished. The ISLE lab will be moving over the next couple of weeks.
12/19/03
Congratulations to Dana Maher for being one of two winners
of the Department's Prosser Scholarship.
05/20/03
The ISLE Lab has received a Planning Grant from Kansas
NASA EPSCoR for collaborative work with Chris Sorensen at KSU.
05/01/03
Effects of Slope and Particle Size on Ant Locomotion:
Implications for Choice of Substrate by Antlions
by Jason T. Botz, Catherine Loudon, J. Bradley Barger,
Jeffrey S. Olafsen, and Don W. Steeples has been published in
The Journal of the Kansas Entomological Society, Vol 76, Issue 3 (2003).
04/10/03
Congratulations to Ryan Kinser who has been awarded
an NSF Graduate Fellowship to begin graduate school next fall!
04/02/03
Congratulations to Sarah Feldt and William Cross who have been awarded
Undergraduate Research Awards for Summer 2003 from the KU UGRA Program!
03/26/03
Congratulations to Kevin Kohlstedt who will be participating in
the Summer 2003 Student Research Participation Program
at Argonne National Laboratory this summer!
01/21/03
M. V. Sapozhnikov, I. S. Aranson, and J. S. Olafsen
Coarsening of granular clusters: Two types of scaling behaviors
has been published in Physical Review E.
12/11/02
I. S. Aranson and J. S. Olafsen
Velocity Fluctuations in Electrostatically Driven Granular Media
has been published in Physical Review E.

03/29/02
Congratulations to the following students:

Jesse Atwell, Cory Doolittle, Sara Feldt and Kevin Kohlstedt

for being awarded Summer UGRAs from KU for 2002!

02/21/02
The ISLE lab has received funding for a Summer Research Fellowship

Prof G. William Baxter, Behrend College

will be spending 8 weeks this summer working on a project with us.